Kings Of Leon working on new album, Twister Sister stop Republicans using their song, John Lennon's killer refused parole... Daily Hot List
Friday, 24 August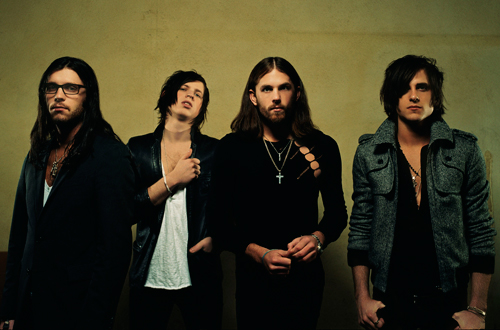 Kings Of Leon have begun work on a new album. Bassist Jared Followill - who also launched a new side project this week, confirmed that the band are now thinking about their next record. "We've been meeting with producers every day so we're starting to get the ball rolling on album six." he told Zane Lowe on Radio 1. "I don't know what I can say, but we're definitely planning on starting the record some point in the near future."
bbc.co.ul/newsbeat
Mika has announced his new album, Origin Of Love, will be released on 8 October.
Mikasounds.com
Republican vice presidential candidate Paul Ryan has agreed to stop using Twisted Sister's We're Not Gonna Take It in his campaign after the band objected. "I emphatically denounce Paul Ryan's use of my song We're Not Gonna Take It as recorded by my band Twisted Sister," declared singer Dee Snider in a statement. "There is almost nothing on which I agree with Paul Ryan, except perhaps the use of the P90X [workout]."
Gawker.com
Madonna gave a speech onstage saying she's forgiven Elton John for his recent comments comparing her to a "fairground stripper"... though has she? Watch below and see if you think if it's really peace in our time (via Vulture.com).

John Lennon's killer, Mark Chapman, has been refused parole for a seventh time. Chapman, who's case is reviewed every two years, was told of his fate by a parole board on Wednesday. "Despite your positive efforts while incarcerated, your release at this time would greatly undermine respect for the law and tend to trivialise the tragic loss of life which you caused as a result of this heinous, unprovoked, violent, cold and calculated crime," parole board member Sally Thompson explained in a written statement.
Billboard.com
Radiohead's OK Computer has topped Pitchfork's People's List, which invited the public to rate the best albums of the influential site's first 15 years. Second is... Radiohead with Kid A.
Pitchfork.com
Watch St Vincent and David Byrne discussing their forthcoming joint album, Love This Giant (via Vintagevinylnews.com).

If you get thirsty during Foo Fighters' Reading And Leeds Festival sets this weekend, just ask Dave Grohl for a drink...
Gawker.com
Muse are on the cover of our brand new issue, Q315. You can get it in print on Tuesday, or right now for the iPad.
Qthemusic.com
Sorry to ruin you're day, but you'll no doubt be distraught to learn that Katy Perry and John Mayer are no longer an item. Why is it always the good ones?
People.com
Watch The xx performing new track Angels in Toyko (via Pitchfork.com). Plus grab our new issue for an exclusive interview with the band.

Kasier Chiefs have announced a UK tour which kicks off in Carlisle on 11 February. Tickets go on sale next Wednesday at 9am (BST).
Kaiserchiefs.com
Watch former New To Q band Toy's new video for Lose My Way.

Alicia Keys will release her fifth studio album, Girl On Fire, on 26 November. The singer will also play the iTunes Festival at London's Roundhouse on 28 September.
Aliciakeys.com
A van "decorated" by Kurt Cobain is up for sale. The "Melvan" was put on eBay last year but failed to reach its reserve. This time its on sale for just 10 days.
Rollingstone.com
Today's Track Of The Day is The Cure with Friday I'm In Love (of course) as we preview the weekend's Reading And Leeds Festivals
That's it for this week. Because of the British Bank Holiday, the Daily Hot List returns on Tuesday at noon.
12:00 PM | 24/08/2012