Q has teamed up with the good people at Pure, the world's leading maker of wireless music and radio systems, to offer three lucky winners a Sensia 200D Connect, the revolutionary touchscreen wireless music and radio system that wirelessly plays music and radio from your handheld iOS or Android device with "Pure Stream".
The enhanced follow-up to the multi-award-winning Sensia, the Sensia 200D Connect delivers upgraded performance, room-filling audio, one touch and timed USB recording, and "Pure Stream", which allows the user to wirelessly play music and radio from their Android Smartphone, iPhone, iPod Touch or iPad.
The 5.7" colour touchscreen displays visuals relevant to the audio, including digital and internet radio slideshows and album artwork. Users can also view Twitter feeds, Facebook updates and photos via Wi-Fi or Picasa.
The advanced user-interface delivers smooth scrolling lists, fast keyboard entry and responsive search facilities, which all make for a truly absorbing experience. For more info, visit Pure.com.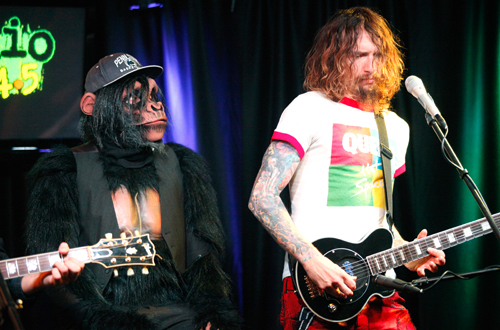 To win, simply insert your own comical caption to the above photograph of The Darkness' Justin Hawkins with a friend playing live in Pennsylvania in August in the box below. Closing date is 20 September.
Get Q315 now, you can either grab it in print or download the issue for the iPad now.
11:29 AM | 29/08/2012