Q316 featuring Noel Gallagher, Mumford & Sons, Lady Gaga, Green Day & more out now for iPad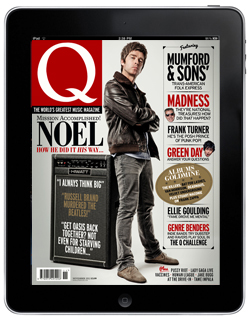 The digital version of our new issue, Q316, is on sale right now for iPad.
Featuring a cover story interview with Noel Gallagher, the issue also includes Mumford & Sons, Lady Gaga, Madness, Green Day, Ellie Goulding and much more.
To get our new issue on iPad, head to iTunes get the Q iPad App and then you can download the new edition.
The first generation of Q on the iPad is a reader featuring the whole of the print issue - plus a series of bonus content, which this month includes extra questions and a gallery with Noel, tracks from our New To Q acts, an audio interview with Mumford & Sons and more.
The print edition of Q316 will be in the shops from Tuesday (25 September).
1:11 PM | 21/09/2012