Q's week that was... Mumford & Sons, Noel Gallagher, Paul Banks, Q316 on sale, The Darkness, Oxjam & more
In case you missed it, here's what we've been up to on Qthemusic.com this week.

Mumford & Sons: 'The Devil is in online comments' - Q316 preview
As the band release new album Babel, Marcus Mumford explains how misinterpretations of his group influenced their record's name

Q&a Paul Banks - the Interpol frontman on his new solo album, ditching Julian Plenti, "moving his horizons" & more
With his second solo LP coming out under his own name next month, it's time for the singer to get personal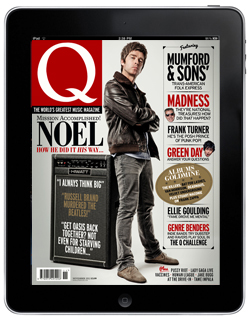 Noel Gallagher: "Pop as we knew it is dead... we will not have another punk, acid house or Britpop. Fact!" - Q316 preview
Here's a little extract from our interview with "The Chief"
The Darkness' Lady Gaga tour diary: the full 48 hours from Justin Hawkins - Q316 preview
In our new issue, out now, we join her Ladyships' latest tour which features the rockers as support - here's their tour diary, with 24 more hours than you'll find in the mag
Q316 Caption Competition - enter now to win a PDP Concept drumkit worth more than £1500
Missy Piggy, Elton John, your funny caption and the neighbours may never sleep again...
Listen to the results of Q's Genre Swap challenge with Maximo Park, Hadouken!, Kings Charles & Drumsound & Bassline Smith
We challenged a bunch of acts to try a different genre for size in our new issue, Q316 out now, here's what they sounded like...
Frank Turner: Eton school days mean some people will never accept me - Q316 preview
Grab our new issue for the full feature with the singer-songwriter as he denies claims he's "right wing"
Singles column 24 Sept 2012 - Pro Green, Kylie, Missy Elliot, Sex Pistols & more
Jamie Skey rounds-up this week's releases and the best new songs that have appeared online in the last seven days...
A host of acts played a London Oxfam shop this week to mark the launch of grass roots festival Oxjam, which will see volunteers staging gigs across the UK in October, check out our Q&As with
Graham Coxon
Lucy Rose
Totally Enormous Extinct Dinosaurs
Plus check out all of this week's Tracks Of The Day.
11:38 AM | 29/09/2012