In case you missed it, here's what we've been up to on Qthemusic.com this week.

Q&a Primal Scream - Bobby Gillespie on their new album, Screamadelica shows and playing a brewery for Guinness
Plus win tickets for the UK leg of Arthur's Day next week (27 Sept)

Guest column - Bruce Foxton on getting back in the studio with his old Jam mate Paul Weller (& other guests)
With solo album Back In The Room out 1 Oct, the bassist tells why its sessions saw friends reunited
Q316 featuring Noel Gallagher, Mumford & Sons, Lady Gaga, Green Day & more out now for iPad
Get the digital version of our brand new issue - featuring bonus content - right now, or in print on Tuesday (25 Sept)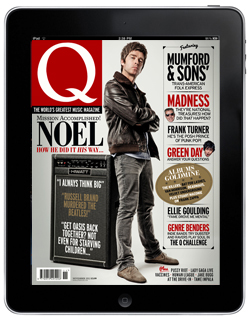 Column - A threesome with Ken Stringfellow featuring R.E.M., Posies & Big Star
With a new album out next month, the influential American singer-songwriter talks Michael James Hall through three of his proudest moments on record....
Singles column 17 Sept 2012 - Michael Kiwanuka, Lianne La Havas, Ladyhawke, Jacko & more
Jamie Skey rounds-up this week's releases and the best new songs that have appeared online in the last seven days...
Guest column - AN IMPORTANT MESSAGE FROM DAVE HILL (not the guy who is not in Slade, which is bullshit by Dave Hill)
Public service announcement: this man is really not in Slade, but don't let that put you off...




Playlist - Tom Hickox's "Songs of war and protest" feat Dylan, PJ Harvey, Tom Waits, Springsteen, 'Stones & more
The revolution will be soundtracked...
Column - Major to minor? What Universal buying EMI means...
Eamonn Forde reacts the decision by EU regulators to let one major label purchase the other
Plus check out all of this week's Tracks Of The Day.
11:45 AM | 22/09/2012