Beyonce for Super Bowl, Vines singer arrested, Trent Reznor & Dr Dre set for 'unexpected' collaboration, no new Adele record for "some years"... Daily Hot List
Wednesday, 17 October
Sorry for the absence of the Hot List yesterday, this was due to staff illness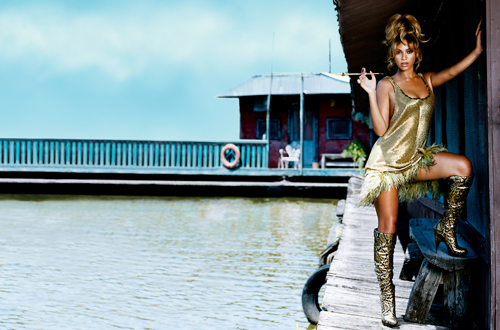 Beyonce is set to play the half-time show at next year's Super Bowl on February 3 in New Orleans. The slot is one of the most watched in American TV - last year's set by Madonna, complete with M.I.A.'s middle finger, was watched by 114million - often attracting a ratting bigger than the game itself.
ABCnews.com
The Vines' singer Craig Nicholls has been accused of assaulting his parents and injuring a police officer. The singer, who suffers from Asperger Syndrome, was arrested and charged with five offences following a disturbance at his home in Sydney on Saturday night. He is expected to appear in court today.
SMH.com.au
Trent Reznor is working on a project with Dr Dre for his Beats By Dre brand. Explaining that is "probably not what you're expecting", the NIN man gave little away, save to say the collaboration will "emerge next year".
Spin.com
Adele's next album "may not come for some years" her record label, XL, have warned - which is a shame for them as they've just revealed they made a $67m profit for last year. However the label, which is part of Beggars Group, aren't getting carried away, indicating they "regard this year's figures as exceptional".
NYtimes.com
R Kelly will relaunch his hip-hop opera Trapped In The Closet in 23 November, he's announced. "I've got like a hundred chapters to come," he declared, explaining the new instalment will pick up from where the saga left off.
Billboard.com
Watch The xx's new video for Chained.

Listen to Mike Skinner and former Music singer Rob Harvey discussing their new project The D.O.T.
bbc.co.uk/6music
The Roots' ?uestlove is to teach a course called "classic albums" at NYU in the spring. The class, which is been staged by the Clive Davis Institue For Recorded Music, will focus on what it means for a record to be called seminal, plus will look at the music, lyrics, production and business aspects around each release. Albums by Michael Jackson, Aretha Franklin and Beastie Boys are expected to feature.
Billboard.biz
Smashing Pumpkins Billy Corgan has admitted he has contemplated killing himself several times. "I almost killed myself about three, four, seven times. I literally started planning my death and what I would leave behind, and what I was going to write. Three or four times in my life," he said. "What I finally realised, at least on the back end of this, is that God, at least as I understand God, was there all along. Once I was able to process my reality in that way, I no longer felt like a victim."
NME.com
Listen to Andy Burrows new album Company, exclusively via Q.
Qthemusic.com
He might have been busy debating for his political future, but President Obama does have an opinion of Nicki Minaj and Mariah Carey's feud on American Idol... "I think that they are going to be able to sort it out," he suggested. So that's good, then...
Vulture.com
Watch the new video for Bon Iver's Beth/Rest.

Frightened Rabbit have written us a guest column about the joys of whisky.
Qthemusic.com
A Florida couple ended up having a violent domestic dispute because one of them insisted on only listen to Alanis Morissette's music...
Gawker.com
Today's Track Of The Day is Adele with Skyfall as we preview all of this year's nominees ahead of the Q Awards on Monday (22 October)
That's it for today. More Hot List tomorrow at noon.
12:00 PM | 17/10/2012