Kings Of Leon album coming "sooner rather than later", Springsteen plays for Obama, Macca working with Mark Ronson... Daily Hot List
Friday, 19 October
NB there will be no Hot List next week as we bring you coverage of the 2012 Q Awards which take place on Monday, 22 October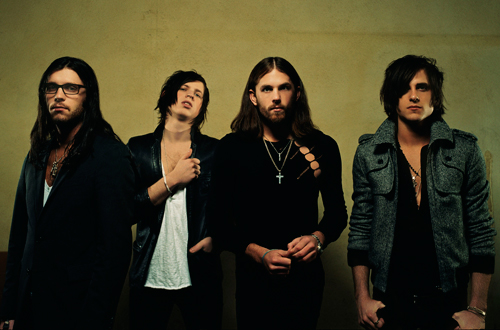 Kings Of Leon expected to release a new album "sooner rather than later" and have already started work on the follow-up to 2010's Come Around Sundown. "We are in the writing process right now and it's coming along pretty quickly," explained bassist Jared Followill. "Well definitely get into the studio [soon]... We have no plans of finishing it this year, but definitely early next."
bbc.co.uk/6music/ NME.com
Bruce Springsteen played a rally for Barack Obama's re-election campaign in Ohio yesterday. "For 30 years, I've been writing about the divide between the American dream and the American reality," Springsteen told the crowd. "Our vote is the one principal way we get to determine that distance."
Billboard.com
Paul McCartney is working with Mark Ronson and producer Ethan Johns on a new album.
NME.com
Blur have announced that the five disc edition of their Parklive live release - which features footage of the band's Hyde Park gig along with audio from their intimate warm-up dates - will come out on 3 December.
Blur.co.uk
Watch the new video for The Weeknd's Wicked Games.

New York's multi-day, multi-venue new talent showcase, the CMJ Music Marathon, is currently in full swing. Here's a round-up of some of the best acts to have played so far.
Brooklynvegan.com
Read an extract from Rob Jovanovic's book about Nirvana. This section deals with sessions for the trio's debut album.
Thequietus.com
Drake has finally earned his High School Diploma. The singer quit education when he became a child actor, but recently decided to finish his course work and take his final exams. He passed.
Ibtimes.com
Here's the trailer for Spike Lee's Michael Jackson documentary, BAD25.

Lady Gaga has reportedly been offered a part, and £3million, for the Zoolander sequel.
Thesun.co.uk
Meanwhile her Ladyship has fired back at Die Antwoord who spoofed her in their video for new single Fatty Boom Boom. The singer said she found the band "freaky" on Twitter but pointed out they "didn't have a hit". The trio responded by saying "even tho u r 'larger' than us... we still cooler than u" on the network. Watch the offending clip below.
Thequietus.com


Some wags at Eton have created their own parody of Psy's Gangnam Style, showcasing life at the UK's most exclusive school.
Guardian.co.uk
The Joy Formidable's Ritzy Bryan has written Q a guest column about one of her sources of inspiration, favourite painter Carl Ray.
Qthemusic.com
The full soundtrack for the RZA directed The Man With The Iron Fists, which features the likes of Kanye West, The Black Keys, RZA himself and more, is streaming online.

Local Natives will return with new album Hummingbird on 28 January. New track Breakers is streaming now.
Youtube.com
Today's Track Of The Day is The Cribs with Glitters Like Gold as we preview all of this year's nominees ahead of the Q Awards on Monday
That's it for today. There Hot List will be back in a weeks time because next week we'll be bringing you Q Awards coverage. Follow it live from noon on Monday (22 October) right here with live updates from the ceremony and video interviews at Youtube.com/QMagazine.
12:00 PM | 19/10/2012