Q's week that was... Q Awards Special, new issue, Killers, Muse, Manics, Johnny Marr & more
In case you missed it, here's what we've been up to on Qthemusic.com this week.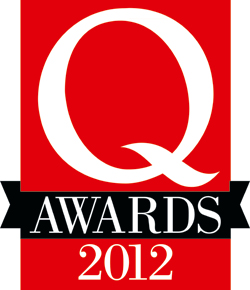 Monday saw the 2012 Q Awards take place in London - here are the winners
Plus...
... Watch video interviews with all winners and the presenters, including Muse, Keane, Blur, Bobby Womack
We're streaming the singer's new album Company in full ahead of it's release via Q
Q&a Manic Street Preachers James Dean Bradfield on 20 years of Generation Terrorists & more
Plus why the singer believes Richey Edwards "have the biggest twitter following in the western world" if he was around now
Help us cover Oxjam 2012 with your reviews & pictures for a free, digital magazine
We've teamed-up with Oxfam, now here's how you can get involved too...
Johnny Marr, Liam Gallagher, Jake Bugg & more feature in "Moving Portrait" exhibition - preview
Check out an example from a new show currently being staged in London by Q photographer Tom Oxley
On target: The Killers are on the cover of our new issue - Q317 preview
Brandon Flowers is the cover star of the new Q out next week...
Guest column - Shooting from the hip: Everything Everything's hands-on video evolution
From DIY shoots to directing crew, Jonathan Higgs explains why the band have taken control of their visuals
Muse reveal their summer 2013 touring plans
The trio explain why they're "trying to bring the West Country into the stadium circuit
Old Vinyl Factory Session - iAM1 cover Massive Attack's Safe From Harm
Check out a classic cover recorded in the factory that used to make all the UK's records
The most talked about bands & artist this week - the Music Buzz Chart with Starcount
Here's the weekly rundown of the musicians who've been dominating social media chatter over the last seven days...
Singles column 22 October 2012 - Jessie Ware, Madness, You Me At Six, Kanye West & more
Jamie Skey rounds-up this week's releases and the best new songs that have appeared online in the last seven days...
Plus check out all of this week's Tracks Of The Day.
11:36 AM | 27/10/2012