The Killers' Brandon Flowers: 'I had a look through Elvis' Book Of Mormon' - Q317 preview

Brandon Flowers has told Q he has got to look through a copy of the Book Of Mormon owned by Elvis Presley.
The Killers' frontman was speaking as part of the cover feature of our new issue, Q317, which is out today (30 October).
The singer was invited to inspect some of the Church's artefacts after providing a public endorsement for the religion in a recent campaign - including a copy of the religious book owned and annotated by Presley.
"Elvis wrote, There can be only one King. He didn't like being called The King because to him, Jesus Christ was The King," he explains. "It was so cool I got to see that."
Flowers adds that it would be "a lot easier" for him at the moment if the world's most famous Mormon Mitt Romney wasn't running for president before joking "I must be Number 2, right?" in the famous Mormon stakes.
Get the new issue of Q out now for the full feature which explores the band's relationship with each other.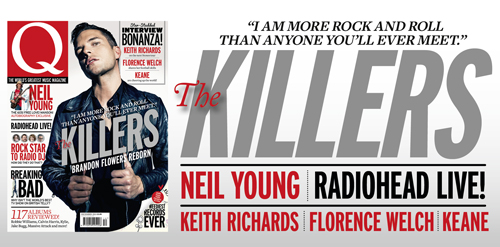 11:34 AM | 30/10/2012