Beyonce to sing at Obama's inauguration today, Dave Grohl's supergroup plays Sundance, Jerry Seinfeld on hip-hop LP, Arcade Fire flogging church... Music News Daily
Monday, 21 January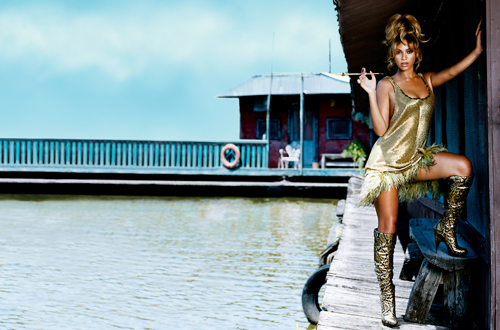 Beyonce is set to sing the American national anthem at President Obama's inauguration in Washington DC later today (11am EST, 4pm GMT). "Every time I am overworked and in a stressful situation, I always think about moments like this," the singer said of the event. "And it makes everything worth while." The likes of Fun. and Katy Perry performed at a Kids' Inaugural Ball on Saturday, while a series of other musical events are taking place around the swearing in, including rumours Lady Gaga will play the Inauguration Ball this evening.
Whitehouse.gov
Dave Grohl's directorial debut, Sound City - Reel To Reel, was shown at the Sundance Film Festival on Friday night, after which the former Nirvana man staged a concert with his new supergroup, the Sound City Players. Featuring contributions from John Fogerty, Stevie Nicks, Corey Taylor and more, the band performed new songs from the soundtrack of Grohl's forthcoming documentary.
Spin.com
Watch Solange and The xx's Oliver Sim covering Nicole Wray's Make It Hot.

Jerry Seinfeld is collaborating on new album with Wale. Having released The Mixtape About Nothing in honour of the comedian's show in 2008, the rapper is revisiting the material and has recruited the man himself to take part this time. "Wale called me, he came to my show, we hung out a little bit," explained Seinfeld, who was convinced to get involved by his wife, a big fan of Wale. "He wanted me to do something with him. I didn't understand it. But he did."
Rollingstone.com
The Quebec church converted into a studio by Arcade Fire is up for sale. The venue for sessions for The Holy Bible and The Suburbs is available for $325,000, though it requires repairs to its roof.
Pitchfork.com
Watch Divine Fits' new video for My Love Is Real.

Divine Fits - "My Love Is Real" from stereogum on Vimeo.
Relations between Velvet Underground pair John Cale and Lou Reed are not as cordial as reports of a new collaboration may seem. Following rumours the latter was keen to stage a live show based on the pair's 1990 tribute to Andy Warhol, Songs For Drella, Cale suggested his former bandmate was deluded. "Who does he think he is, thinking he can just put an item like that out there?" he asked. "Things like that do not happen just because you think it is a good idea. It takes a lot of work to get the songs ready for live performance. Most of those arrangements are out of date. They need to be redone. Lou doesn't have the patience for something like that. Never. Not for a minute."
Vulture.com
Portishead have announced a series of European shows for this summer. The group play a trio of events in June, just ahead the Glastonbury festival... it would be rude not to play the West Country event too, right?
Portishead.co.uk
Check out Little Barries' new video for Tip It Over.

The Eagles say they are looking to tour again soon, and will try in corporate a new documentary about the band, History Of The Eagles, into the shows. "We're looking to go back on the road and do some shows soon, maybe incorporate some footage along the way," explained Glenn Frey. "Make it a little more informative as we go through our catalogue, but we haven't made any specific plans about when we're going to start." The film will be released as a DVD on 19 March.
Billboard.com
Luke Haines said he chose to drop a song about Jimmy Savile from his North Sea Scrolls albums. "We didn't have to drop the song, we chose to drop the song about Sir Jim," he explained. "The whole thing was written before his death and we didn't particularly want to wade into the whole Savile circus." Watch the full interview below.
Thequietus.com

Paul Weller will play the Isle Of Wight Festival ahead of The Stone Roses on 14 June.
Isleofwightfestival.com
Wire will release a new album, Change Become Us, on 25 March - they will also play London's Heaven the day beforehand (24). Listen to the opening track from the album, Doubles & Trebles, now.

Paramore have announced the tracklisting for their self-titled album, out on 8 April. Last Hope, Still Into You, Proof and single Now will feature on the 17 track album.
Paramore.net
Brits Critics Choice winner Tom Odell will release his debut album, Long Way Down, on 15 April.
Tomodell.com
The Vaccines, whose next single will be Bad Mood (out 4 March), have confirmed The Walkmen will join them at their London O2 Arena show on 2 May as special guests.
Thevaccines.co.uk
Here's Crystal Castles new video for Sad Eyes.

Britney Spears and Will.I.AM's Scream & Shout held off 50 Cent and Justin Timberlake to retain the top spot in the UK singles chart, while the Les Miserables' soundtrack in the Number 1 UK album.
Officialcharts.com
Today's Track Of The Day is New Order with Blue Monday
That's it for today. Music News Daily returns tomorrow at lunchtime.
12:00 PM | 21/01/2013