Beyonce admits to lip-synching inauguration, Muse plan next album, HMV twitter goes rogue, Kanye West wears designer straight jacket... Music News Daily
Friday, 1 February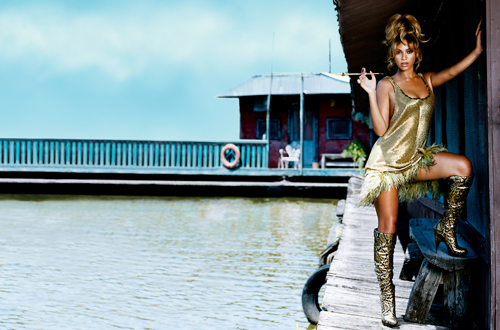 Beyonce has admitted to lip-synching for President Obama's inauguration last month. After singing the national anthem live for reporters at a press conference ahead of her Super Bowl halftime show at the weekend (for which she insists she will be singing live), the singer addressed claims she had mimed. "I am a perfectionist, and one thing about me, I practice until my feet bleed," she said. "I did not have time to rehearse with the orchestra. It was a live television show and a very, very important emotional show for me. One of my proudest moments. Due to the weather, due to the delay, due to no proper sound check, I did not feel comfortable taking a risk. It was about the president and the inauguration, and I wanted to make him and my country proud. So I decided to sing along with my pre-recorded track, which is very common in the music industry, and I'm very proud of my performance."
Guardian.co.uk
Muse say they are already planning a follow-up to last year's The 2nd Law, however the album won't be around for a couple of years. "Me and Matt [Bellamy] have just been tentatively talking about what we're doing to do, how we're we're going to do it, what we need to think about when we are going to do it," admitted drummer Dominic Howard. "We tend to feel like we need to finish touring one album before we start anything else rather than starting an album on the road. We like to finish a chapter and start afresh, so it'll be a couple of years, probably. But we're definitely thinking about it."
Billboard.com
Watch archive footage of The Smiths playing Salford University in 1986 - it's one of the Ten Greatest Gigs Of All Time in our new issue, Q320, on sale now.
QThemusic.com

Kanye West has a new fashion statement, a straight jacket. The rapper-producer wore a designer restraint onstage in Abu Dhabi this week. Like you do...
Vulture.com
Drake is to release a new single to coincide with this year's Grammys on 10 February. The track is rumoured to be called The Start From The Bottom or Started From The Bottom. Suggestions it's actually a cover of Spinal Tap's Big Bottom can't be ruled out at this stage... or in, for that matter.
Pitchfork.com
Watch Biffy Clyro chatting about new album Opposites to our friends FaceCulture.

Films about Green Day and Snoop Dogg will be show as part of this South By South West festival in March, ahead of possible wider distribution later in the year.
Billboard.com
HMV's official twitter account was briefly commandeered by employees who lived blogged the sacking of over 60 employees as the chain made 190 people across the company redundant yesterday. The offending messages, allegedly from intern Poppy Rose, were hastily deleted as the firm regained control of its social media.
Theregister.com
Following its leak yesterday, now watch the official video for new Depeche Mode song Heaven.

However viewing footage of Pussy Riot's punk prayer in Russia will not be possible as authorities are attempting to "scrub" it from the internet. ISPs in the country will be fined up to $3000 if they host the clip, below.
Spin.com

Noel Gallagher, Kasabian and Jake Bugg are set to play show for Comic Relief. The gig will take place on 6 March at Wembley Arena and will feature a host of comics too, along with Paloma Faith, Jessie J and Rizzle Kicks among others.
NME.com
Iron & Wine will release new album Ghost On Ghost on 15 April. Here's track from it, Lovers Revolution.

Calvin Harris has been named Britain's most successful songwriter, in terms of his appearances on the UK singles chart, for the second year in a row.
bbc.co.uk
Beth Orton will play London's Royal Festival Hall on 17 April. Read our Q&a interview with the singer.
bbc.co.uk
Today's Track Of The Day is Tom Odell with Another Love
That's it for this week. Music News Daily returns on Monday at lunchtime.
12:00 PM | 01/02/2013