Daft Punk announce return (sort of), Timberlake & Mumford write song together, Vaccines recording new EP. Tracy Emin reviews Bowie... Music News Daily
Wednesday, 27 February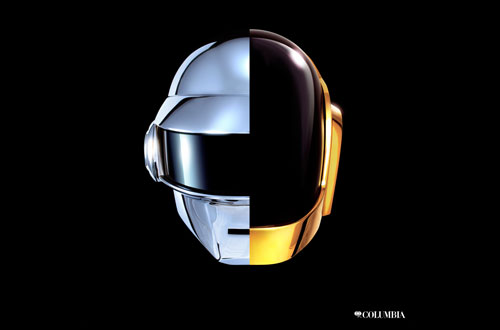 Daft Punk have confirmed their long rumoured link-up with Columbia Records... well, sort of. The French duo were reported to have signed to the label a few months ago, ahead of a new album which is expected this spring. Yesterday the pair updated their Facebook page with the image above which includes their new home's logo. No more details than that so far, although last year Nile Rodgers confirmed he'd been working with them. Watch this space...
Daftpunk.com
Justin Timberlake and Marcus Mumford worked together on a song for the Cohen Brothers' next film, Inside Llewyn Davis. Timberlake appears in the film along with the Mumford & Sons man's wife Carey Mulligan, and says they made it a family affair: "Marcus and myself, we all kind of worked on the music together and I don't know any other world where we would have the opportunity to collaborate like that but it was so much fun."
Rollingstone.com
The Vaccines are set to record a new EP in Los Angeles next month that they aim to release in May. "We've made our last three records in London, Bath and Brussels, so we wanted a bit of sun," explained frontman Justin Young of the field recordings.
bbc.co.uk/newsbeat
Meanwhile The Vaccines, Dizzee Rascal, Rizzle Kicks, Palma Violets, Ellie Goulding and more have all joined the line-up for this year's Ibiza and Mallorca Rocks gigs. Foals and Examples were already confirmed to play the series of summer gigs.
Ibizarocks.com
Watch some recently unearthed early footage of the Manic Street Preachers, shot in Aldershot in 1991.

Artist Tracey Emin has reviewed David Bowie's new album. "The Next Day is a dark, deep, meaningful album. There is nothing pulpy or commercial," she says of the LP out 11 March. "At times, even if the beat is poppy, the lyrics never are. The use of the baritone saxophone is sexy, the strings are romantic and David Bowie's voice is as David Bowie as it could ever be."
Thesun.co.uk
No Doubt are back in the studio. The band have abandoned plans to tour this year and are already following up 2012's Push And Shove.
Billboard.com
Wire have announced they will support Toy at the series of London gigs they're helping to curate next month. Though the band will play their own show for The Quietus at London's Heaven on 24 March, they've now confirmed they're up for some support band duties, and will open for the Heavenly Records act 23 March at The Lexington.
Thequietus.com
AlunaGeorge will release their debut album Body Music on 1 July. Here's a new track from it, single Attracting Flies (out 10 March).

Lana Del Rey claims her second album with be "spiritual". "It's a little more stripped down but still cinematic and dark," she said of the record, though adds she finds making videos the easiest part of the process. "For some reason the videos are still the easiest things that come," she explained. "As soon as I write the words to a song, I can paint exactly what I want the picture to look like. I have a song called Black Beauty and I've already talked to people about making it."
bbc.co.uk/newsbeat
Green Day's Billie Joe Armstrong has spoken about the effects of the substance abuse he recently under went rehab for, forcing him to cancel a series of gigs. "I couldn't predict where I was going to end up at the end of the night," he explained. "I'd wake up in a strange house on a couch. I wouldn't remember how. It was a complete blackout."
Rollingstone.com
David Byrne and St Vincent have announced a joint European tour with UK dates in London (27 August), Birmingham (28) and Glasgow (29), before playing The End Of The Road festival (30).
Lovethisgiant.com/
Listen to James Rutledge's remix of Everything Everything's second album Arc.

Morrissey believes there would be less wars if more men were gay. "War, I thought, was the most negative aspect of male heterosexuality. If more men were homosexual, there would be no wars, because homosexual men would never kill other men, whereas heterosexual men love killing other men," he claimed. "They even get medals for it. Women don't go to war to kill other women. Wars and armies and nuclear weapons are essentially heterosexual hobbies."
Pitchfork.com
The Weeknd will play a trio of UK dates this winter, including London's O2 Arena on 26 November. Tickets go on sale this Friday at 9am (GMT).
Theweeknd.co.uk
Music sales around the globe are up for the first time since 1999. Last year's international sales were worth $16.5 billion, a growth of 0.3 per-cent on 2011.
EW.com
Peaches will premiere her directorial debut at the Sundance London film festival. The electro queen screen Peaches Does Herself in the UK for the first time and will play a show at IndigO2 on 26 April. Tickets go on sale this Friday.
Sundance-london.com
Black Keys drummer Patrick Carney has revealed he wrote a fan letter to Belle & Sebastian's Stuart Murdoch as a teen. "When I was 19/20 Belle & Sebastian taught me what was cool," he explained. "I sent Stuart a fan letter/collage about a horse and a cute girl when I was 18 the only time I really geeked out. But I swear he read it."
@Patrickcarney
The Secret Garden Party have announced Soulwax and Django Django are among the acts to be playing this year's festival, which takes place 25-28 July in Huntingdon.
Secretgardenparty.com
Track Of The Day's David Bowie Week continues with Queen Bitch today
That's it for today. Music News Daily returns tomorrow at lunchtime.
12:00 PM | 27/02/2013