Kings Of Leon & Beyonce to headline V, new David Bowie video, NIN return... Music News Daily
Tuesday, 26 February - new issue of Q out today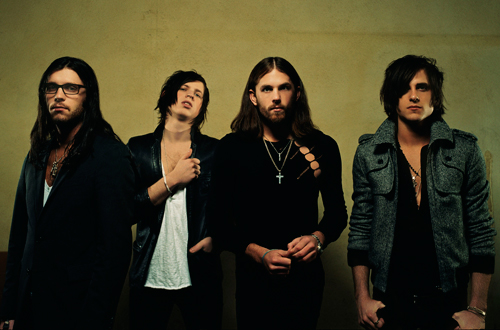 Following (correct) rumours, Kings Of Leon and Beyonce have been named as the headliners for this year's V Festival (17-18 August). Beady Eye, The Vaccines, Kendrick Lamar, Basement Jaxx, Laura Mvula and Rita Ora are also among the acts to be announced for this year. Tickets go on sale at 9am (GMT) on Friday.
Vfestival.com
David Bowie has released a second song from forthcoming album The Next Day (out 11 March) this morning. Here's the video/ short film for The Stars (Are Out Tonight) featuring Tilda Swinton as his wife.

Nine Inch Nails will return and tour later this year. "The band is reinventing itself from scratch," Trent Reznor explained. "The first shows will begin this summer, followed by a full-on arena tour of the US this fall and lots of other dates worldwide to follow through 2014."
Pitchfork.com
Morrissey pulled out of appearing on a US chat show because his fellow guests were set to be Duck Dynasty, an American show that focuses on people who build devices to help hunters fool ducks (yes that is a real programme, and more pertinently who didn't think that would upset Moz?).
Stereogum.com
Listen to Yeah Yeah Yeahs' new single Sacrilege, taken from forthcoming Mosquito (out 15 April).

Janet Jackson married in secret last year. The singer has just confirmed she and businessman Wissam Al Mana tied the knot.
Gawker.com
The National have tweeted that their new album, the follow-up to High Violet, will be out in May.

Oh and also, thought you might like to know that we'll be putting out a new album in May

— The National (@The_National) February 25, 2013
Mumford & Sons joked they want to start rapping as they discussed ideas for their next album. "I do feel like we're ready to make the departure," explained Ben Lovett of their third LP. "There's definitely cohesion between the [first] two albums. Now that we've done that, we're not desperate to walk away from that sound, but we're willing to explore what else we could do. These two albums are like brothers. [We could] Do something that's a cousin."
Rollingstone.com
Listen to Karl Hyde from Underworld's first solo single, The Boy With The Jigsaw Puzzle Fingers, taken from album Edgeland (out 22 April).

Iggy And The Stooges will release new album Ready To Die on 30 April. "My motivation in making any record with the group at this point is no longer personal," declare Pop of the LP. "It's just a pig-headed fucking thing I have that a real fucking group, when they're an older group, they also make fucking records. They don't just go and twiddle around on stage to make a bunch of fucking money and then go 'oh, it wouldn't be as good' - this is not the fucking Smashing Pumpkins, y'know, we've got the bald guy and whoever - this is the key. The only thing I really have to say is The Stooges are a real group."
Gawker.com
Elton John will release new album, his 30th studio record, The Diving Board in Steptember. "It's my most adult album," he said of the LP. "It's got everything I love about American music - gospel, soul, country."
Guardian.co.uk
Today's Track Of The Day's David Bowie Week continues with Aladdin Sane
That's it for today. Music News Daily returns tomorrow at lunchtime.
12:00 PM | 26/02/2013