Kings Of Leon outdoor gig, Deftones' Chi Cheng dies, Radio 1 in Thatcher Ding Dong... Music News Daily
Monday, 15 April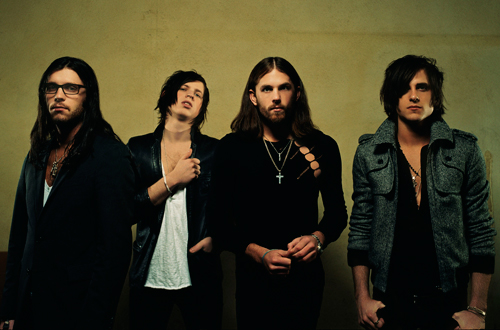 Kings Of Leon will play Glasgow's Bellahouston Park on 15 August, as part of the city's Summer Sessions. Tickets go on sale this Friday at 9am (BST).
Glasgowsummersessions.com
Deftones' Chi Cheng has died on Saturday more. He was 42. The bassist has been in a semi-conscious state since 2008 when he was involved in a car accident which left him in a coma.
Billboard.com
Listen to Empire Of The Sun's new single Alive, taken from new album Ice On The Dune which is released on 17 June.

Brian Wilson is publishing an autobiography. I Am Brian Wilson will be out in the autumn of 2015.
Hodder.co.uk
The first Coachella festival of 2013 (the event is repeated with the same line-up on 19-21 April) took place over the weekend, with Blur, The Stone Roses, The Postal Service and more playing. Here's fan footage of headliners Phoenix, who were joined onstage by R Kelly.

The much anticipated debut album by XL Recordings signing Jai Paul, is purportedly up for sale online via a bandcamp page for £7. The label are yet to confirm the nature of the release.
Thequietus.com
Jaipaul.bandcamp.com
Soul songwriter George Jackson, who co wrote Old Time Rock And Roll, has died aged 68.
Billboard.com
Daft Punk have confirmed more names for their new album Random Access Memories, including the previously 'leaked' Julian Casablancas and Animal Collective's Panda Bear, in a teaser trailer.

Justin Bieber was accused on insensitivity (and egotism) at the weekend. Paying tribute to Anne Frank after a visit to Amsterdam the singer reportedly left a message in the Anne Frank House's visitors book declaring: "Truly inspiring to be able to come here. Anne was a great girl. Hopefully she would have been a Belieber." Listening to loud pop music probably wasn't high on her list of priorities, Justin...
EW.com
Was Psy's breakout from the K-Pop scene a one hit wonder or the birth of a global popstar? It's time to find out, here's his next single Gentleman.

Daniel Johnston will play London's Barbican on 2 June to celebrate the 30th anniversary of his album Hi, How Are You? Norman Blake and Jeffrey Lewis are among the special guests who will joined him.
Barbican.org
Black Sabbath have announced the tracklist for new album 13. Wot no Song 2?
Blacksabbath.com
Janelle Monae has announced plans for a new album, entitled The Electric Lady. The first track from the record, Q.U.E.E.N. featuring Erykah Badu, is set to premiere via her website next Monday.
JanelleMonae.com
Ding Dong! The Witch Is Dead went in at Number Two in the UK singles chart last night, however Radio 1 refused to play the track in full in its countdown and instead opted to present a piece explaining the online campaign that propelled the song into the charts following Margaret Thatcher's death last week.
Guardian.co.uk
Meanwhile Duke Dumont and A*M*E have held on to the top spot with Need U (100%), Paramore have the Number One album.
Officialcharts.com
Today's Track Of The Day is Ladyhawke with Sunday Drive
That's it for today. Music News Daily returns tomorrow at lunchtime.
12:00 PM | 15/04/2013